Project title: Epigenetic regulators of intestinal endocrine cells and carcinoid tumors
Qiao Zhou, PhD; Ramesh Shivdasani, MD, PhD
Dana-Farber Cancer Institute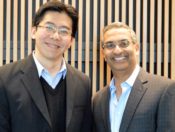 Status:

Completed

Year(s):

2017

Grant Type:

Accelerator

Research Type:

Basic

Primary Tumor Site:

Small intestine

Area of Inquiry:

Mapping NET dependencies

Article/Video:

Click Here
General Description
This study seeks fundamental answers about the origin of intestinal neuroendocrine cells and carcinoid tumors. The researchers will capitalize on exciting advances in stem cell biology, nuclear profiling, and genome editing to understand the differences between human carcinoid tumor cells and their normal counterparts, in an effort to find the irregularities that distinguish cancer cells from healthy ones. Drs. Zhou and Shivdasani also aim to identify the likely precursor cells (the cell of origin) that give rise to intestinal NETs in laboratory models.
Additional Details
City:

Boston

State:

Massachusetts

Grant Duration:

4 year

Sponsor:

Margie & Robert E. Petersen Foundation
DISCLAIMER
NETRF funds laboratory research to understand the development of neuroendocrine tumors and translational research to explore new concepts in treatment. Research grant descriptions and research updates from NETRF are not intended to serve as medical advice. It can take years for research discoveries to be fully validated and approved for patient care. Always consult your health care providers about your treatment options.
« Back to all funded research projects