Building A Friendship and a Foundation to Fight NETs
Anne Doyle received news that no daughter wants to hear in 1993. Her father Hugh had carcinoid tumors in his liver and lungs. As a result of his diagnosis, Anne was introduced to a cancer and a world that she never expected. Just over a decade later, that world included Nancy Lindholm, a 29-year-old tax attorney who had recently been diagnosed with metastatic neuroendocrine cancer.
Nancy and Hugh were both patients of the same oncologist and he and his nurse practitioner  recommended they meet when Nancy made the decision to create a foundation to search for a cure for carcinoid cancer. Anne joined her parents for their coffee date with Nancy. That day marked the beginning of a friendship and nearly a decade of service to the Caring for Carcinoid,now known as the Neuroendocrine Tumor Research Foundation.  Anne served as Board Chairman from 2009 to 2013.
"I basically said, what can I do?" explained Anne. "I had just ridden in the Pan Mass Challenge, an annual bike-a-thon that crosses Massachusetts. I said I can create a team for next year. I then became the Pan Mass town zealot. I would literally ask people in the grocery store if they were on a team for the Pan Mass if they were wearing bike shorts, and if not, would they like to join Team Caring for Carcinoid."
The effort paid off, the team grew to as many as 55 members and raised $1.8 million dollars for NET research under Anne's decade of leadership. The team wore sunflower jerseys to convey their hope and effervescent belief that there could be a better future for NET patients. 
"In the beginning, we were a scrappy and small organization, but unlike most organizations, Nancy went straight to the top of the field for medical researchers," said Anne "She insisted that scientists work together, and was also very purposeful and intentional about involving young researchers and changing the trajectory of their careers."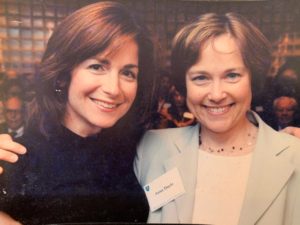 The seeds of hope that Anne, Nancy and the other founding members of NETRF planted in 2005 have taken root. To date, NETRF has funded more than $30 million in NET research across 94 studies.
Anne describes what the progress means to her and what it would have meant to Nancy. "Nancy would be so proud, and she would also be impatient. She set the bar so high. She really wanted to live, and she really wanted to cure carcinoids. I really, really loved her." 
Anne continues to give. She believes it is important to continue bringing together the best minds in the world to search for a cure and save lives. NETRF has named Anne Doyle a member of our Champions Giving Society.  We are honored by her commitment and outstanding support.
"I give because of the people I have loved and lost, and for those who have NETs whom I don't even know.  Collectively we can make a difference. It comes down to love. That's the most important thing.