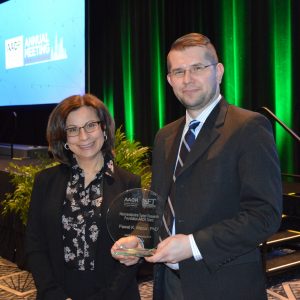 Can an epigenetic enzyme under the right conditions contribute to the growth of cancer cells? If so, what happens if the enzyme is removed? Can manipulation of this enzyme slow or stop cancer cell production?
This is the direction to be taken by a newly funded researcher who hopes to identify new therapeutic targets for NETs.
In April, Pawel Mazur, PhD, MD Anderson Cancer Center, was awarded a grant from the American Association of Cancer Research (AACR), sponsored by NETRF. The AACR-NETRF grant supports innovative cancer research of neuroendocrine tumors.
"The work proposed by Dr. Mazur is novel because it focuses on a poorly studied enzyme that might play a key pro-tumorigenic role in the development of pancreatic NETs," said Effie Tzameli, PhD, NETRF Director of Research.
Mazur's two-year investigation will explore an enzyme (KMT NSD3 or NSD3) to see if it helps pancreatic NET (pNETs) cancer cells grow. The project entitled, "Next generation animal models to define therapies for neuroendocrine tumors," will study laboratory models of pNETs with genomic alterations in PTEN, MEN1, and ATRX. These alterations affect signaling pathways that relate to cell growth and death. NSD3 may amplify the impact of these alterations, helping to give neuroendocrine cancer cells the "green light" to reproduce and grow.
Mazur's laboratory experiments will work to answer compelling questions.
• Does NDS3 play an essential role in the development of NET cancer cells?
• Does NDS3 promote cancer cell growth when PTEN, MEN1 or ATRX genes are altered?
• Can eliminating NSD3 when these genes are altered reduce cancer cell growth?
"Our findings will provide novel opportunities to fight neuroendocrine cancers," said Mazur. "Methylation of proteins in cancer can modify their activity to promote tumor growth. Importantly, lysine methyltransferases like NSD3 can be inhibited by small molecules and thus constitute ideal targets for drug development."
NETRF's support of this annual AACR research grant is made possible through generous philanthropic gifts by individuals, families, and private foundations. Learn more about giving to NETRF.